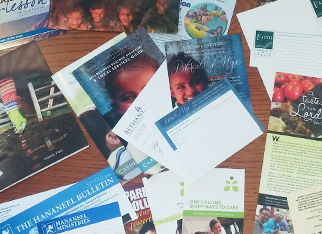 Crossing Press is a Christian owned and operated business that grew from a desire to see churches and Christian organizations receive top-quality printing and graphic design work. My name is Joe Supplee and Crossing Press began in 1979.
Here's how we began… I trusted in Jesus Christ and began a personal relationship with Him in my early 20's after coming to an understanding of my need for a Savior. At that time, I was excited to get involved with and even develop various ministries within our local church; a sound system ministry, an audio-cassette loan library, co-leading a bible study and even becoming Property Manager for my church. It was an honor and privilege to serve in any way that I could.
During that time, a close friend approached me about starting a printing ministry. His extensive graphic arts background would handle the creative end of things and he felt that I could handle the printing end. After much prayer and spiritual counsel, I left my 9-5 job to start a new company that would bring Christian organizations into the 21st Century with high quality printing and graphics. We began to see the Lord's hand along the way with the provision of printing equipment as well as various other needs being met. We have experienced lots of changes over the last 38 years of ministry and we are grateful for every step along the way. Although our main focus has been Christian organizations, we have a few Christian business owners who requested that we do their printing as well.
Our goal is to serve the Lord through serving you. If we can be of help to you in any way, please feel free to contact us. crossingpress@gmail.com